Deprecated
: wp_make_content_images_responsive is
deprecated
since version 5.5.0! Use wp_filter_content_tags() instead. in
/home/rafflesm/public_html/wp-includes/functions.php
on line
4777
Deprecated
: wp_make_content_images_responsive is
deprecated
since version 5.5.0! Use wp_filter_content_tags() instead. in
/home/rafflesm/public_html/wp-includes/functions.php
on line
4777
Deprecated
: wp_make_content_images_responsive is
deprecated
since version 5.5.0! Use wp_filter_content_tags() instead. in
/home/rafflesm/public_html/wp-includes/functions.php
on line
4777
Deprecated
: wp_make_content_images_responsive is
deprecated
since version 5.5.0! Use wp_filter_content_tags() instead. in
/home/rafflesm/public_html/wp-includes/functions.php
on line
4777
Free Sample:
Sample of less than 1 meter square is provided free of charge. Requestor needs to incur the courier charges.
Custom Specification

Panel Size: Our standard size is 10 meter x 10 meter. Upon request, we will manufacture the rope mesh according to specification.
Wire Rope Diameter: Our wire rope diameter ranges from 1.2mm, 1.6mm, 2.0mm, 2.4 mm, and 3.2mm.
Apertures: Our standard apertures are from 120mm x 120mm, 102mm x 102mm, 90mm x 90mm, 76mm x 76mm, 60mm x 60mm, 51mm x 51mm, 38mm x 38mm, 25mm x 25mm, 20mm x 20mm. For more information, please visit our Product page.
If there are any special requirements for the apertures not shown above, please do not hesitate to contact us.

The size of Bulk Roll
The size of the bulk roll varies depending on the size of the rope mesh ordered.
Packaging
The rope mesh will be rolled and packed into the P.P. woven bags or wooden crates.
Lead time
The order could be arranged within 24hours, lead time is between 7-30 days depending on the quantum of order.
For Stainless Steel Wire Rope Ferrule Mesh, the wire ropes are neither knotted nor crossed, it is a construction of stainless steel wire ropes that lie parallel in pairs, connected and reciprocally curved by stainless steel Ferrules. The wire rope construction is either 7 x 7 or 7 x 19. The standard mesh angle is 60°. All the components are made from either AISI 304 or AISI 316 material group.
The mesh construction can be pulled apart like an accordion, producing a spring force that varies depending on the mesh aperture and wire rope thickness. The Ferrule Mesh is a vibrant, premium-quality product. The mesh aperture and wire rope diameter determine its functionality and aesthetics.
The mesh apertures (mm): 40 x 69, 50 x 87, 60 x 104, 70 x 121, 80 x 139, 90 x 156, 100 x 173, 120 x 208, 150 x 260
The wire rope diameters: 1.2mm, 1.6mm, 2.0mm, 2.4mm, and 3.2mm
Ferrule Mesh is mostly applied in architecture for best aesthetics.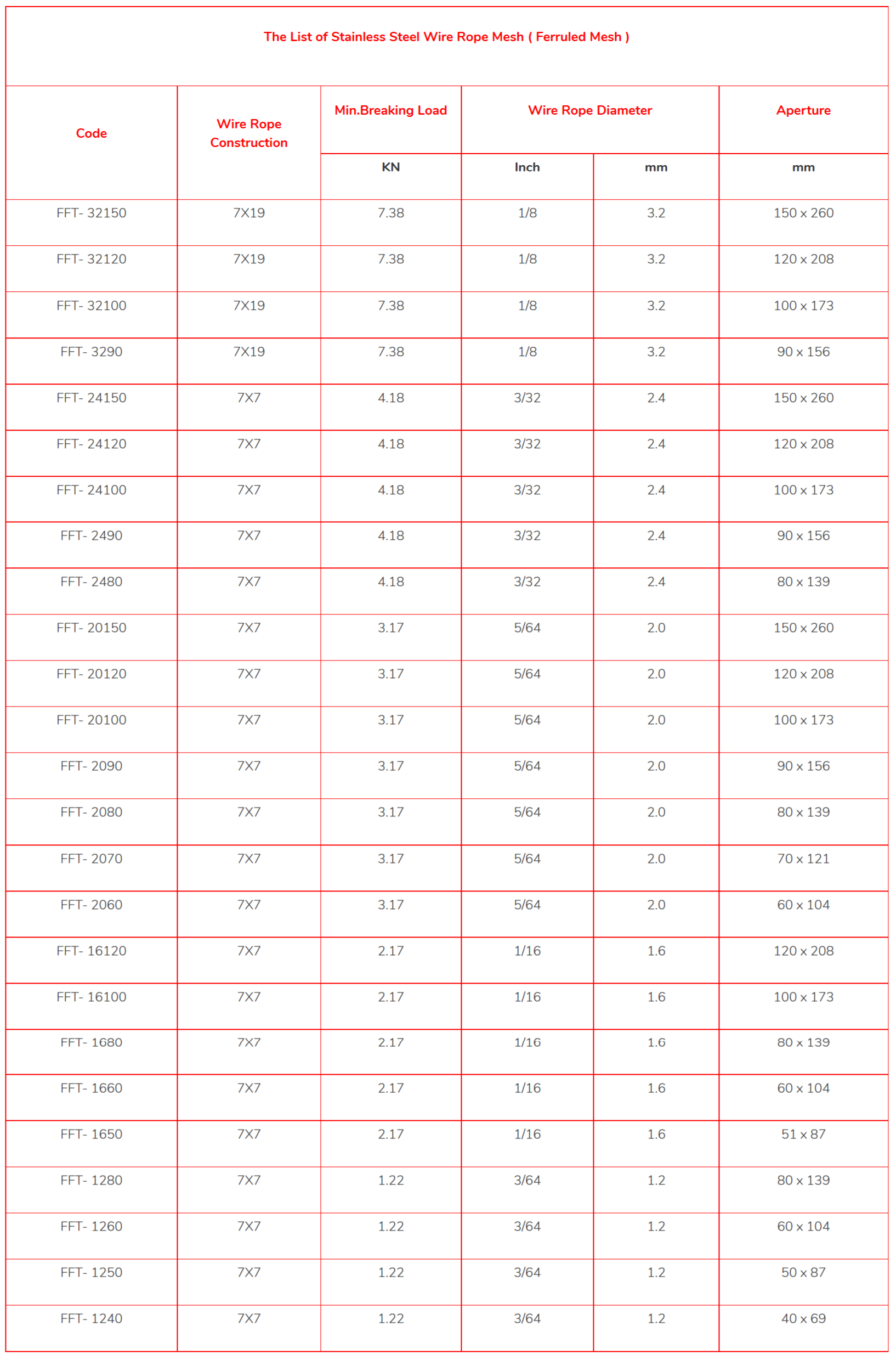 Benefits of Stainless Steel Rope Mesh
The perfect application of animal enclosure fence netting and bird enclosure netting