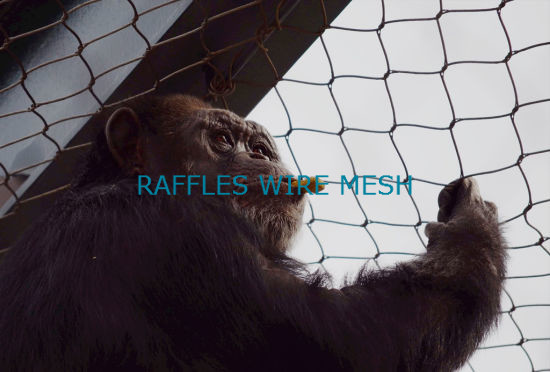 About US
Raffles Wire Mesh is a specialist in manufacturing premium quality stainless steel rope mesh since 2001. The Company based in Singapore has manufacturing facilities in Vietnam and an office in France. The factory in Vietnam yields an area of 2,000 square meters for the production of netting under the brand of Rafflesmesh. Raffles Wire Mesh Pte Ltd is an animal protection netting manufacturer and realized projects worldwide for many animal species (birds and big cats).
What we do
The main applications: Zoo Mesh, Animal Enclosures, Aviary, Aviary fence, Animal Cages, Bird Netting, Aviary Mesh, Zoo Fence, Zoo Enclosure, Animal Fence, Zoomesh, Railings, Balustrade In-fill
We work closely with our clients, understanding their requirements and expectations towards our products. With our experience, strict quality control and assurance, rest assured on the products and service.
At Raffles Wire Mesh Pte Ltd, we manufacture Artificial Vines, Hand-woven Stainless Steel Rope Mesh, and Ferruled Stainless Steel Rope Mesh at direct factory price. Singapore quality at a cost-effective price as the manufacturing is in Vietnam.
Our Manufacturing Plant:
Our factory is located in Can Tho. Can Tho is a major City about 170 km south west of Ho Chi Minh City. It has two large industrial parks that even have container shipping access in and out of the city. It also has a domestic airport that will soon be converted to an International airport for Asian. Once completed, the airport is expected to handle 2 to 3 million visitors yearly. By road, it has a 6-lane expressway from Trung Luong to Ho Chi Minh City.
If you have any other questions, please contact us
Recent Articles
Here are some of the latest entries from our blog section.
Are you looking for ways to keep birds away from your roof? If you do, then a bird netting can be a viable option for you. To make sure that you buy a bird mesh
This article provides information about the different forms of steel that exist and the various ways in which they are modeled. Steel is one of the alloys of iron with numerous desirable qualities which make
Stainless steel is a low maintenance material but not maintenance free. Get long life from your steel with these cleaning/maintenance guidelines. Stainless steel material requires less maintenance. This means that the material requires fewer maintenance