Deprecated
: wp_make_content_images_responsive is
deprecated
since version 5.5.0! Use wp_filter_content_tags() instead. in
/home/rafflesm/public_html/wp-includes/functions.php
on line
4777
Deprecated
: wp_make_content_images_responsive is
deprecated
since version 5.5.0! Use wp_filter_content_tags() instead. in
/home/rafflesm/public_html/wp-includes/functions.php
on line
4777
Deprecated
: wp_make_content_images_responsive is
deprecated
since version 5.5.0! Use wp_filter_content_tags() instead. in
/home/rafflesm/public_html/wp-includes/functions.php
on line
4777
Deprecated
: wp_make_content_images_responsive is
deprecated
since version 5.5.0! Use wp_filter_content_tags() instead. in
/home/rafflesm/public_html/wp-includes/functions.php
on line
4777
Free Sample:
Sample of less than 1 meter square cable mesh is provided free of charge. Requestor needs to incur the courier charges.
Custom Specification

Panel Size: Our standard size is 10 meter x 10 meter. Upon request, we will manufacture the wire rope netting according to specification.
Wire Rope Diameter: Our wire rope diameter ranges from 1.2mm, 1.6mm, 2.0mm, 2.4 mm, and 3.2mm.
Apertures: Our standard apertures are from 120mm x 120mm, 102mm x 102mm, 90mm x 90mm, 76mm x 76mm, 60mm x 60mm, 51mm x 51mm, 38mm x 38mm, 25mm x 25mm, 20mm x 20mm. For more information, please visit our Product page.
If there are any special requirements for the apertures not shown above, please do not hesitate to contact us.

The size of Bulk Flexible Wire Mesh Roll
The size of the bulk roll varies depending on the size of the rope mesh ordered.
Packaging
The rope mesh will be rolled and packed into the P.P. woven bags or wooden crates.
Lead time
The order could be arranged within 24hours, lead time is between 7-30 days depending on the quantum of order.
Stainless Steel Wire Rope Woven Mesh is hand-woven using Stainless Steel Wire Ropes. The rope construction is either 7 x 7 or 7 x 19 with a standard mesh angle of 90°.
The components are made from AISI 304 or AISI 316 material group. Originally intended and widely applied in Zoos for the construction of animal enclosure, animal cage, and aviary. It is also known as "ZOOMESH". Meanwhile, it could be also applied in architecture structure.
With the aesthetics of Stainless Steel Wire Rope Woven Mesh, a natural and secure environment can be created. Replacing unsightly chicken wire or non-metal mesh which require constant maintenance as they have a relatively short lifespan. On the other hand, ZOOMESH's physical properties are well suited for the above-mentioned applications as it is strong and able to withstand harsh environmental conditions eg. salt water and UV exposure. More importantly, ZOOMESH requires low maintenance and has a lifespan of more than 30 years which will be more cost effective in the long run.
This product reaps the best value.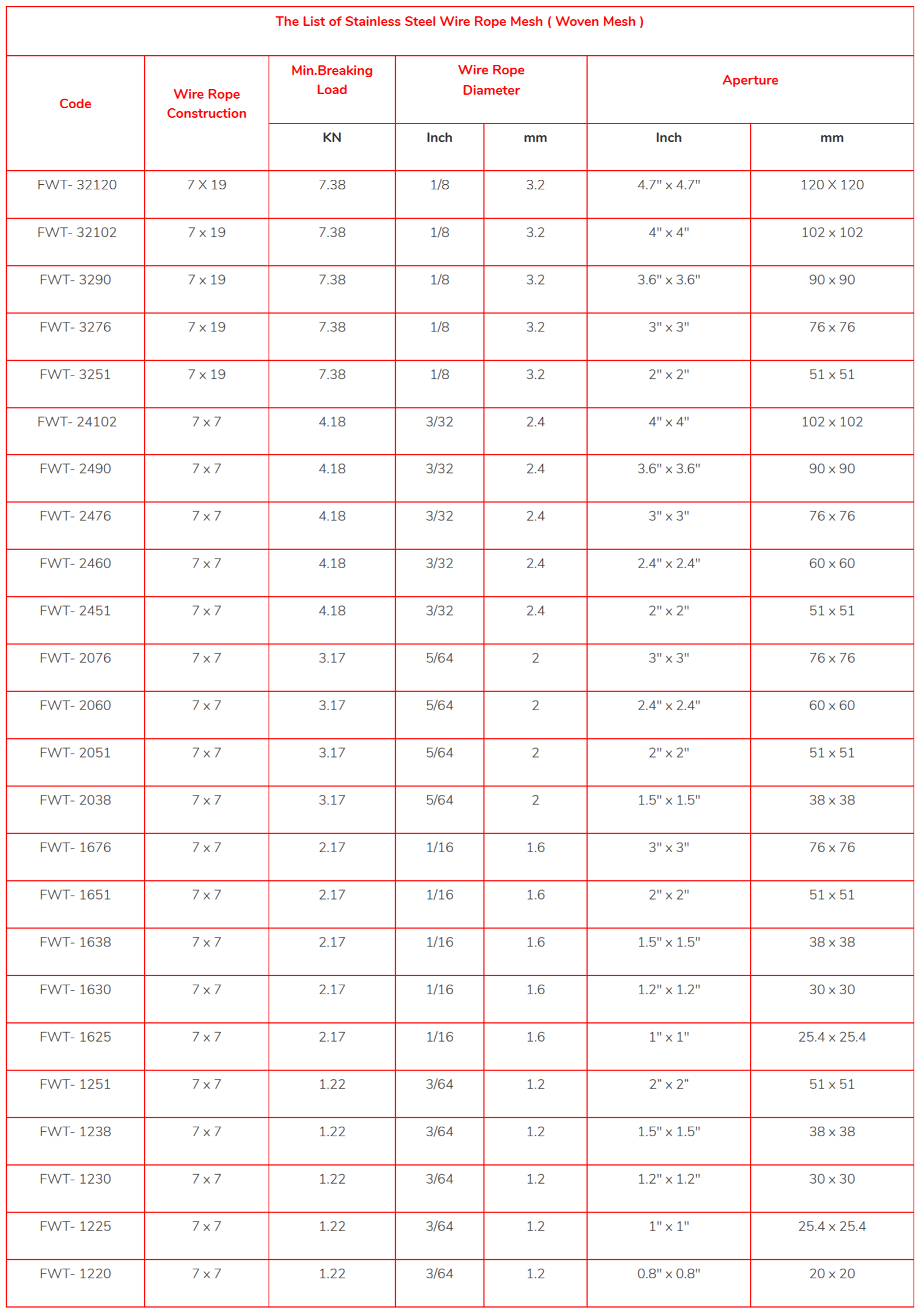 Our Features
The perfect application of animal enclosure fence netting, bird enclosure netting